Agenda
Build Night! Bring a set to assemble!
LEGO Convention Overview: Bricks In The Six 2019

Presentation by Andrew Wheeler.

LUGBULK update and discussion.
Attendees
Stephen Churchill, Paul Dawe, John Gillingham, Paula Gillingham, Geoff Stevens, Jasen Vokey, Andrew Wheeler, Matthew Zwicker, Rielly Mitchell
Minutes
Bricks In The Six:

A LEGO fan convention called Bricks In The Six was held in August 2019 in Toronto, Ontario.
NewfoundLUG member Andrew Wheeler presented some slides describing the event and his experience there. Thanks Andrew! You can view his slides below.
LUGBULK Update:

Some test orders have been received using the Test Order Form.
As of Nov 6, approximately $4,500 worth of test orders had been received. The minimum total order for the LUG to participate in the LUGBULK program is approximately $7,000.
Next steps:

Submit test order if you haven't already.
LEGO will release the 2020 parts list in December 2019 or January 2020.
We will then review our parts shortlist and drop any parts showing no interest, and possibly add some parts that are new to the 2020 list.
We will then take real orders from members and submit to LEGO in March 2020.
Christmas Party

Agreed to hold a small Christmas Party for the LUG – details to follow via Facebook and this web page.

Scheduling of Next Meetings

Noted we need to schedule our regular meetings and build nights for 2020. These will also be provided via Facebook and this website.
Set Giveaway

Another set was given away from the Activity Support sets. Members were entered into the draw as per the points program and a winner was selected by the Wheel of Names.
76129 Hydro-Man Attack was the set up for grabs this time. It has a small Venice scene, 4 minifigures, a bunch of trans-blue, a variety of web elements, a gondola, a cafe and a rat!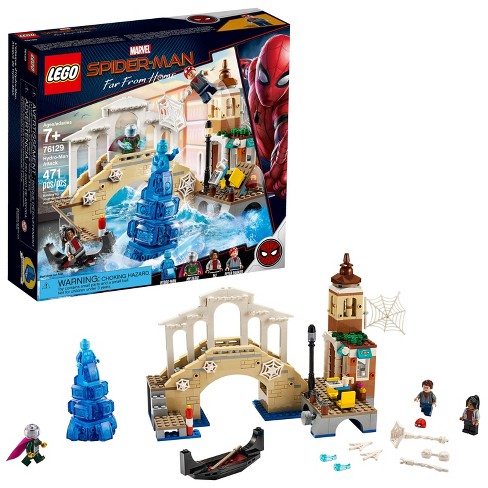 Matt Zwicker was the lucky winner. Congrats!